Ohio notebook: Injuries not as serious as feared
Huynh, Leftwich expected to return within a few weeks
By Lonnie McMillan / Contributor
Monday, October 3, 2011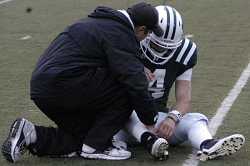 Lonnie McMillan Photo
Quarterback Tyler Tettleton suffered a deep calf bruise Saturday against Kent State, but is not expected to miss this weekend's game against Buffalo.

ATHENS, Ohio – Good news came to the Ohio football team Monday in finding that some of the team's injuries were not as bad as feared.

Defensive tackle Neal Huynh suffered a knee injury and cornerback Omar Leftwich injured his shoulder early in Saturday's 17-10 victory against Kent State and did not return.

Huynh, who entered the game as the Bobcats' leading tackler, was on crutches Saturday and it was feared he might have torn his anterior cruciate ligament, but an MRI revealed a less serious injury and Ohio coach Frank Solich said he would be out about four weeks.

It was known that Leftwich's injury was not as serious, but there is no break and he might even be able play Saturday against Buffalo.

Things certainly were less optimistic Saturday.

"(Huynh is) going to be out for a while, maybe the season," Solich said at the time. "MRIs and x-rays will determine that, but both he and Omar will be out for considerable time."

Safety Xavier Hughes missed part of Saturday's game with a back injury, but Solich said it was minor and would not keep him from playing.

Quarterback Tyler Tettleton missed the final handful of plays on the Bobcats' last drive of the game because of a deep calf contusion. Solich said he would be held out of practice for a few days but does not expect the injury to keep him from playing.

"He could not push off the leg," Solich said. "It bothered him for a share of the second half. He played considerable time with it in the second half and it got to a point where he just couldn't move."

Running back Donte Harden, who played only the first half of the Marshall game and has sat out the last two games with a groin injury, is likely to return this weekend, Solich said.

Tight end Derek Roback made his Ohio debut last week after sitting out the first four games with a back injury.

Solich said the team was going to have to be careful to prevent further injuries.

"We're going to have to watch how we practice," he said. "... We cannot be going at the same pace we've been going at and think that we're going to be a healthy football team going into next week. We're going to have to back off what we're doing a little bit. … I know these guys will do everything they can in terms of getting treatment and doing whatever it takes to get themselves healthy and get themselves back on the field. We'll take a good football team to Buffalo."

Depth to become key for Bobcats

Depth, especially on defense is going to be a key for Ohio the next few weeks.

The defensive line, thin to begin the season after the graduation of all four starters a year ago, has been hit hard.

Defensive tackle Jeff King has not played yet this season because of a knee injury, and he recently suffered a setback that will keep him out at least a few more weeks.

Solich said today the team would start preparing true freshmen Antwan Crutcher and Brandon Purdum for play after originally intending to redshirt them at the start of the year.

Corey Hasting, a non-scholarship player until this season, got most of the playing time in place of Huynh Saturday, making one tackle.

"Corey Hasting did a great job of stepping up and filling in there," linebacker Noah Keller said. "I think he took more snaps today that he probably did his whole career. He did a good job."

Especially with the good news about Leftwich, the secondary should be in better shape, although it was tested Saturday with Hughes sitting out the second half. Cornerback Jamil Shaw also sat out some plays.

Redshirt freshman Josh Kristoff and true freshman Larenzo Fisher saw extensive playing time late in the game. The two had combined to see action in only four games prior to that, but Kristoff came away with an interception and four tackles, while Fisher made a pair of stops.

"I was very pleased because in some cases you can drop off so much losing the kind of guys that we lost that you're not the same team and it shows," Solich said. "But I don't know that it showed as much as what you might think. Obviously, our guys played harder once they realized those two guys were lost and that obviously played a role. How it will affect us down the road, I guess remains to be seen."

Boykin plays big role

Sophomore running back Ryan Boykin has shoulder a big load the last two and a half weeks with senior starter Dante Harden sitting out.

This past week against the Golden Flashes, Boykin had 30 touches – including eight receptions – totaling 119 yards.

He had a key 7-yard touchdown catch in which he bowled over a defender on his way to the end zone on a third-down play.

"Boykin is always one of those guys who gets extra yardage on a play," Solich said. "He's always leaning forward on a run. He's great at getting yards after contact. The run into the end zone there, I think was a special contact play. One-on-one, when he's going to come at you, he's a tremendous back to bring down. He's a collision back and you've got to love how he plays the game. I thought he caught a couple key passes in this ball game, too."

After replacing Harden in the game against Marshall, Boykin finished with 25 carries for 135 yards and a touchdown and caught two passes for 20 yards. In the next game at Rutgers, he carried 11 times for 40 yards and two receptions for 11 yards.

On the year, he has 314 yards rushing, 88 yards receiving and two total touchdowns.

"It sucks to see one of your teammates go down, but I just knew I had to step into his spot," Boykin said. "Nobody on Kent's team cares if he goes down. It's just another person has to fill in his spot and I'm happy I'm doing an all right job filling in so far and hopefully that continues."

Coach expecting more from special teams

Coming into the season, Solich thought Ohio's special teams unit could be among the best in the nation, but the Bobcats have lacked consistency on special teams so far this season.

The biggest issue Saturday against Kent State was a blocked field goal and blocked punt, both in the first quarter. In addition, Matt Weller missed a 49-yard field goal try.

"Special teams cost us with the blocked punt and the blocked field goal," Solich said. Those two things were very, very costly. I don't think we kicked the ball as well. Matt didn't have one of his better days. He wasn't meeting the ball really well. His kickoffs for the most part were just OK to below being OK. We had a field goal that came up short."

On the other hand, the Bobcats did make some big special teams plays. A.J. Grady tackled Kent State's punter after a bad snap, and Jerry Gross had a 40-yard kickoff return.

In addition, the Bobcats downed a Paul Hershey punt inside the 1-yard line late in the game, leaving the Golden Flashes the whole field to drive while down by a touchdown.

Hershey, who also has had some ups and downs this season, had all five of his punts downed inside the 20-yard line Saturday.

"There's some things we have to start doing a little bit better in special teams because we're capable of being a very, very good special teams team and I'm not satisfied when it turns out quite like it did, although there were some really great special teams plays, too, that helped us win this game," Solich said.