Thompson scores 34 as Eagles coast past Bobcats
Ohio only gets as close as 10 after trailing by 25 at halftime
By Lonnie McMillan / Contributor
Wednesday, November 19, 2014
FORT MYERS, Fla. – Bernard Thompson scored 18 of his 34 points in the first half to lead Florida Gulf Coast to a huge halftime lead that carried it past Ohio, 79-62, on Wednesday night at a soldout Aliko Arena.
The Eagles (3-0) led by as many as 26 and held a 45-20 halftime lead before the Bobcats (1-1) made a run early in the second half to get as close as 10 with still 11 minutes remaining, but they could not continue the momentum beyond that.
Javarez Willis had 14 of his team-high 17 points after the break, and Maurice Ndour scored 12 of his 16 points in the second half, but he fouled out with 4:42 remaining and played only 25 minutes because of foul trouble.
Ohio shot just 16.1 percent in the first half, before turning things around... <Read More>
Fumble halts Ohio's chance at game-tying drive
Bobcats fall to 1st-place Huskies 21-14
By Lonnie McMillan / Contributor
Wednesday, November 19, 2014
ATHENS – Replay reversed a fumble call and ended Ohio's attempted drive for a touchdown to tie the game, and the Bobcats fell 21-14 to Northern Illinois in single-digit wind chill temperatures Tuesday night at Peden Stadium.
The loss leaves the Bobcats (5-6, 3-4 Mid-American Conference) still one win short of bowl eligibility and keeps the Huskies (9-2, 6-1 MAC) in position to win the MAC West.
"It's certainly a disappointing loss for our players," Ohio coach Frank Solich said. "I feel badly for them. I thought they prepared hard for this football game. I thought they played hard. Obviously we needed to do things a little bit better all the way across the board."
Landon Smith caught a pass from Derrius Vick for 10 yards to the Northern... <Read More>
Freshman Taylor propels Ohio to season-opening blowout win
Bobcats dominate Mountaineers 73-47
By Lonnie McMillan / Contributor
Saturday, November 15, 2014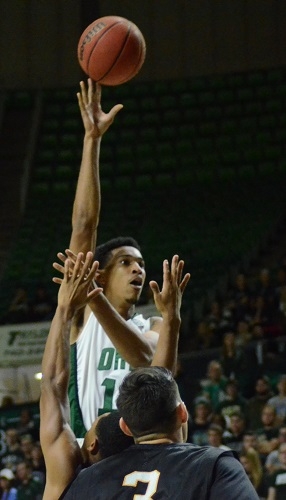 Lonnie McMillan Photo
Ryan Taylor

ATHENS – Freshman Ryan Taylor scored 10 of his 21 points during an early second-half 18-0 run and Ohio ran away with a 73-47 regular-season opening victory against Appalachian State on Saturday at The Convo.

Maurice Ndour posted a double-double with 12 points and 10 rebounds, and Antonio Campbell reached double-figures with 11 points in just 16 foul-plagued minutes.

Chris Burgess and Tommy Spagnolo led the Mountaineers with 11 points apiece.

"Our length, our ability to apply our defensive game plan, some freshman that just walked in like he owned the place: Those are the three things that stood out to me," Ohio coach Saul Phillips said. "Ryan was pretty bashful in his opener, and he held his guy to 2-of-12 shooting in the opener. I knew I... <Read More>

Additional Coverage:


Photos (BobcatAttack.com)





Bobcats pull away from Pioneers late in exhibition game



Ndour leads 5 Ohio players in double-figures with 19 points



By Lonnie McMillan / Contributor


Saturday, November 08, 2014

ATHENS – Ohio had five players score in double-figures and after trailing by as many as 14 early, pulled away to defeat Marietta, 82-69, in an exhibition game before a crowd of more than 11,000 on Saturday at The Convo.

Maurice Ndour had 18 points and nine rebounds, while Treg Setty, Javarez Willis and Stevie Taylor scored 15 each and freshman Mike Laster added 11.

Eddy Gernert's 3-pointer with 6:52 remaining in the first half gave the Division III Pioneers a 38-24 advantage before the Bobcats eventually asserted themselves.

Marietta's lead was cut to 38-37 on a Setty 3-pointer and the Bobcats were down just 40-37 at the break. Ndour gave Ohio a 45-44 lead with a three-point play with 17:38 remaining, and a Laster layup put the Bobcats up... <Read More>





Healthier Bobcats rout Bulls, 37-14



Ohio defense holds Buffalo to 134 yards, 7 first downs



By Lonnie McMillan / Contributor


Thursday, November 06, 2014

ATHENS – As healthy as it has been all year, Ohio rolled to a 37-14 victory against Buffalo on a rainy Wednesday night at Peden Stadium.

Ohio (5-5, 3-3 Mid-American Conference) limited Buffalo to 134 yards of offense and seven first downs, and took advantage of four turnovers and a bad snap to run away from the struggling Bulls (3-6, 1-4 MAC).

A.J. Ouellete, finally back to 100 percent health, rushed 29 times for 155 yards and two touchdowns, and quarterback Derrius Vick, making his first start since an injury against Eastern Illinois, added 44 yards rushing for the Bobcats, who gained 233 yards on the ground.

The Bobcats led 27-0 late in the third quarter and might have shut out Buffalo if not for two turnovers of their own – a fumble... <Read More>





Davis, Franklin lead Western Michigan past Ohio



Vick's return not nearly enough to spark Bobcats



By Lonnie McMillan / Contributor


Saturday, October 25, 2014

KALAMAZOO, Mich. – Derrius Vick returned from injury and gave Ohio a spark offensively in the second half but it was not nearly enough as Western Michigan ran away with a 42-21 victory against the Bobcats on Saturday at Waldo Stadium.

JD Sprague started at quarterback, but Vick, who was the starter until an injury but practiced all week, took over after Sprague got hurt and was ineffective. With Ohio playing from behind, Ohio was forced to throw a lot, and Vick went 18 of 31 for 246 yards with a touchdown and an interception.

Sprague was just 2-of-5 passing for 38 yards and led the Bobcats to only two first downs on five possessions. By then, Ohio was down 21-7.

Even so, the Bobcats (4-5, 2-3 Mid-American Conference) actually had the early... <Read More>





Illinois shooting guard Gavin Block commits to Ohio

By Ted Thompson / BobcatAttack.com Administrator


Tuesday, October 21, 2014

Lincoln (IL) High School 2015 shooting guard has given a verbal commitment to Ohio Basketball. The 6-5, 185-pounder held offers from Northern Illinois and Bradley among several others. Block visited Ohio over the weekend and gave his commitment to new Ohio head coach Saul Phillips on Monday. He averaged 15.9 points and 5.7 rebounds as a junior for Lincoln.

Block joins Doug Taylor (Columbus Northland) and Jordan Dartis (Newark) as members of the 2015 recruiting class. With Block's commitment, the Bobcats now have 12 of 13 scholarships allocated for the 2015-16 season.