Johnson's fumble return sets up Yazdani's game-wining FG



Bobcats beat Zips for the 8th straight time



By Lonnie McMillan / Contributor


Saturday, October 18, 2014

ATHENS – Jovon Johnson's fumble recovery set up Josiah Yazdani's game-winning 22-yard field goal with 1:55 remaining and Ohio defeated Akron for the eighth straight time, 23-20, on Saturday at Peden Stadium.

With the game tied at 20, Devin Bass forced the fumble by Andrew Pratt near midfield, and after picking it up, Johnson returned it 24 yards to the Akron 21-yard line.

"The first thing was to get the ball," Johnson said. "I tried to pick it up the first time and bobbled it, so I fell and then I got back up and picked it up again. When I got up I didn't see anything but white, and I thought it was the opposite team, so I cut back, and, from there, I just tried to get into the end zone."

The Bobcats (4-4, 2-2 Mid-American Conference) were... <Read More>





Bowling Green rides Ohio penalties to easy win



Bobcats flagged 16 times for 153 yards



By Lonnie McMillan / Contributor


Saturday, October 11, 2014

ATHENS – Ohio dominated many of the statistics coach Frank Solich thought would get the Bobcats a win, but penalties and a handful of big plays for Bowling Green led it to a relatively comfortable 31-13 victory Saturday on the Bobcats' homecoming at Peden Stadium.

The struggling Bobcats offense racked up 513 yards on a school-record 110 plays and held the high-powered Falcons offense was limited to 355 yards. Ohio had more first downs, 29-19, and had nearly double the possession time of Bowling Green. Yet it was not nearly enough to overcome 16 penalties for 153 yards.

"You can't finish drives off and put points on the board when you are heavily penalized, and you're also if you're heavily penalized form the defensive standpoint, you allow... <Read More>





Bobcats dominated by Chips' defense, Rawls, Davis



Central Michigan tops Ohio, 28-10



By Lonnie McMillan / Contributor


Saturday, October 04, 2014

MOUNT PLEASANT, Mich. – Thomas Rawls and Titus Davis combined for more than 400 yards of offense to more than double Ohio's team production as Central Michigan rolled to a 28-10 victory Saturday at Kelly/Shorts Stadium.

Playing without starting quarterback Derrius Vick and running back A.J. Ouellette, the Bobcats (3-3, 1-1 Mid-American Conference) got nothing going on offense and were limited to 187 yards and eight first downs. Meanwhile, the senior pair for the Chippewas did plenty. Rawls ran for 229 yards and two touchdowns on 40 carries, and Davis caught 10 passes, including two for scores, for 181 yards.

Ohio was limited to just 24 yards and two first downs in the first half and trailed 14-3, and it could have been worse had the... <Read More>





First-time starters lead Bobcats to easy win



Sprague, Ouellette each score 2 TDs



By Lonnie McMillan / Contributor


Saturday, September 27, 2014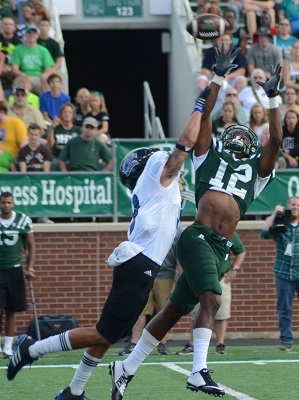 Lonnie McMillan Photo
Jordan Reid

ATHENS – A.J. Ouellette and JD Sprague each ran for two touchdowns in their first career starts and Ohio cruised to a 34-19 victory against Eastern Illinois on Saturday at Peden Stadium.

The Bobcats led 21-3 less than a minute into the second quarter and the FCS-level Panthers never threatened an upset.

The game Ouellette had last week against Idaho after he took over following an early Daz'mond Patterson fumble earned the former walk-on freshman the starting role and he excelled again with 87 yards on 11 carries. He left in the third quarter with an ankle injury and did not return, though he said he could have and will be fine going forward.

After being held to 34 points total in their first three games, the Bobcats (3-2) have scored 70... <Read More>

Additional Coverage:


Photos (BobcatAttack.com)





Freshmen lead Bobcats past Vandals



Ouellette, Poling have huge games for Ohio



By Lonnie McMillan / Contributor


Sunday, September 21, 2014

ATHENS – Freshmen rose to the occasion and helped Ohio take a 36-24 victory against Idaho in its home opener Saturday night at Peden Stadium.

Walk-on true freshman A.J. Ouellette rushed for 130 yards and two touchdowns on offense and redshirt freshman Quentin Poling intercepted three passes as the Bobcats held on after building a first-half 17-0 advantage.

"There's a lot of confidence in individuals within our team and I think they like it when they get an opportunity, and when they did, they show well," Ohio coach Frank Solich said. "There were a number of guys who stepped up and played big for us."

Ouellette quickly has risen up the depth chart and saw almost all the playing time at running back after Daz'mond Patterson fumbled for the... <Read More>





Thundering Herd rack up 705 yards in 44-14 rout of Bobcats



Marshall puts an end to Ohio 3-game series winning streak in a big way



By Lonnie McMillan / Contributor


Saturday, September 13, 2014

HUNTINGTON, W.Va. – Marshall took out its frustrations from three straight losses by scoring the first 41 points in a 44-14 victory against Ohio in the Battle of the Bell on Saturday at Joan C. Edwards Stadium.

Rakeem Cato completed 17-of-29 passes for 425 yards and four touchdowns and the Thundering Herd finished with 705 yards of offense against an Ohio defense that in its first two games had stood tough.

Steward Butler rushed for 119 yards on 19 attempts and Devon Johnson had 91 yards and a touchdown on 14 carries for Marshall (3-0).

Derrius Vick went 18-of-29 for 200 yards with a touchdown and an interception and 51 yards rushing, but did not lead the Bobcats (1-2) to points until his the final possession he played.

Ohio blew a chance... <Read More>





Kentucky's defense stops Ohio



Wildcats' 2 quick TDs more than enough in 20-3 win



By Lonnie McMillan / Contributor


Saturday, September 06, 2014

LEXINGTON, Ky. – Kentucky got all the offense it needed and then some in the first seven minutes and the defense did the rest as the Wildcats defeated Ohio, 20-3, on Saturday at Commonwealth Stadium.

The Wildcats (2-0) scored touchdowns on their first two possessions and neither team found the end zone in the final three and a half quarters as defense dominated. The Bobcats (1-1) were held to 223 yards of offense. Kentucky had 402 yards, but 155 of those came on its first two possessions before Ohio's defense began matching its foes'.

"I think our defense played well enough," Ohio coach Frank Solich said. "If we could have gathered an offense that was able to get more first downs, especially early in the first game, in the first half, we... <Read More>





Yazdani's field goal as time expires helps Ohio overcome fumbles



Bobcats win despite 4 2nd-half turnovers



By Lonnie McMillan / Contributor


Sunday, August 31, 2014

KENT – Josiah Yazdani connected on a 44-yard field goal as time expired and Ohio overcame four second-half lost fumbles to defeat Kent State, 17-14, in its season opener Saturday at Dix Stadium.

"This is a great group of guys," Solich said. "It's been that way through winter conditioning and spring ball. I knew this was a special group in terms of great effort and never giving up. They showed that they are extremely resilient."

Each of the Bobcats' second-half possessions ended in turnovers until their final drive, which came after Kent State tied the game at 14 with 3:34 remaining.

"I knew the ball was in the offense's hands, and that's all you can ask for at the end of a game," Vick said.

With Papi White out with a knee injury and... <Read More>





Newark combo guard Jordan Dartis commits to Ohio Basketball

By Ted Thompson / BobcatAttack.com Administrator


Monday, August 11, 2014

Per his Twitter account, 2015 Newark High School combo guard Jordan Dartis has given a verbal commitment to Ohio. The 6-3, 180-pounder has a 3-star ranking from ESPN. Dartis is the first commitment to Ohio's 2015 class.





Ohio gets QB commitment from Richmond (MO) Quinton Maxwell

By Ted Thompson / BobcatAttack.com Administrator


Sunday, August 03, 2014

According to Scout.com, Ohio has received a verbal commitment from 2015 Richmond (MO) High School QB Quinton Maxwell.