Ohio defense dominates Gardner-Webb in 30-3 victory
Solich picks up career win No. 100
By Lonnie McMillan / Contributor
Sunday, September 11, 2011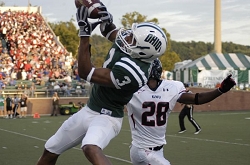 Lonnie McMillan Photo
Donte Foster tries to pull in a catch on Saturday night. Ohio won its home opener, 30-3, against Gardner-Webb.

ATHENS, Ohio – Despite playing without middle linebacker Noah Keller, Ohio's defense limited Gardner-Webb to just 124 yards of offense and the Bobcats used a big second quarter to roll to a 30-3 victory in their home-opener on Saturday night.

After a scoreless first quarter, Ohio overcame a slow start offensively with 24 points in the second quarter, with the help of three interceptions during the period.

"I thought defensively they played really well," said Ohio coach Frank Solich, who earned his 100th career coaching victory. "… Overall when you add the total yardage up at the end of the game and you look at what the defense did to control that game, I think they played very well."

Nathan Carpenter's interception off a deflection set up Ohio's first score, giving the Bobcats possession at the Gardner-Webb 28-yard line. Tyler Tettleton then connected on a 15-yard scoring pass to LaVon Brazill for the game's first score with 10:57 to go before halftime.

Matt Weller gave the Bobcats a 10-0 lead with a 45-yard field goal on Ohio's next possession, and after three-and-outs by both teams, Jelani Wosely stepped in front of a Chandler Browning pass along the sideline and had an easy 26-yard return for a touchdown and 17-0 lead with 2:49 left in the half.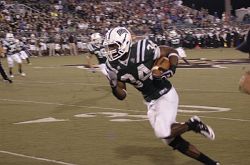 Lonnie McMillan Photo
Jelani Wosely returns an interception for a touchdown in Ohio's 30-3 victory against Gardner-Webb.

"We emphasize execution," Woseley said. "I got an opportunity and I just had to make the most of it. And I just ran."

The Bobcats were not done there, though, when Gerald Moore came up with a pick and returned it 30 yards to the Gardner-Webb 40-yard line.

Tettleton then threw his second touchdown pass of the quarter, with Riley Dunlop making a leaping catch in the corner of the end zone to make it 24-0.

Despite the slow start offensively, the Bobcats finished with 391 yards of offense. Tettleton was 14 of 24 for 139 yards with no interceptions.

"We didn't really have much film on them, and they have a new defensive coordinator, so we didn't really know what to expect," Tettleton said. "All week we just kind of practiced against everything, and they came out and we saw that they were bringing a blitz every single play. We just capitalized on that in the second quarter and in the rest of the game."

The Bobcats settled for a Weller 31-yard field goal on their opening possession of the second half, and also got a 24-yard field goal from Weller with 4:51 left in the game. He also missed wide left on a 53-yard try in the third quarter.

The Runnin' Bulldogs got their only points with 10:46 remaining in the third quarter on a 41-yard Trever Austin field goal. It came as a result of a Ricky Rhodes 54-yard kickoff return that gave them field position in Ohio territory.

Ohio's biggest struggle in the game was four turnovers, including three lost fumbles.

"That was a little frustrating," Solich said. "Most coaches are perfectionists. The win was good to get, but we need to get much more polished, because we're going to be playing some guys that you can't take advantage of if you turn the ball over. You're just not going to get it done."

Donte Harden had 95 yards rushing on 13 carries for the Bobcats, who racked up 269 yards on the ground. Brazill made six catches for 60 yards.

Defensively, Neal Huynh had nine tackles, including 2.5 for loss.

"They were running downhill, and from watching film, we knew they were going to do a lot of that," Huynh said. "I expected to have a lot coming in. I was out there working."

Devin Johnson led the Runnin' Bulldogs' defense with 14 tackles.

Kenny Little finished with 95 yards rushing on 29 attempts. Browning was just 4 of 18 passing for 19 yards.

Ohio hosts Marshall in the Battle for the Bell at 7 p.m. next Saturday.

Additional Coverage:


Box score (Ohio Bobcats.com)




Exclusive BobcatAttack.com Multimedia: