Six Marshall turnovers help Ohio dominate
Bobcats win Battle for the Bell, 44-7
By Lonnie McMillan / Contributor
Sunday, September 18, 2011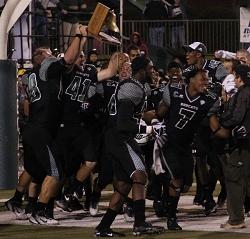 Lonnie McMillan Photo
Ohio players celebrate capturing the bell by virtue of a 44-7 victory against Marshall on Saturday night.

ATHENS, Ohio – Having not beaten Marshall since 2000, Ohio could have been satisfied with any victory against the Thundering Herd on Saturday.

But it was all the more satisfying for the Bobcats that they forced six first-half turnovers and amassed 559 yards of offense in capturing a 44-7 victory in the Battle of the Bell at Peden Stadium

"They've gotten the best of the past two times we've played them, so it feels good to finally get that bell home and get it where it belongs," Ohio linebacker Noah Keller said. "I'd be lying if I said there wasn't a little bit of revenge factor coming into play. You want to win every game, but I sort of wanted to win this one quite handily. I wanted to not only win, but win quite favorably."

Tyler Tettleton accounted for four touchdowns and Ohio built a 27-7 halftime lead, easily getting off to a 3-0 start for the first time since 1976.

Marshall true freshman quarterback Rakeem Cato threw four interceptions, including three in the first quarter alone, and was just 9 of 21 passing.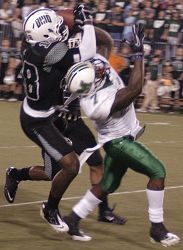 Lonnie McMillan Photo
Ohio's Travis Carrie picks off his second pass of the game and gives the Bobcats their sixth turnover of Marshall in a 44-7 victory.

Omar Leftwich's interception set up Ohio's first score, a 2-yard touchdown pass from Tettleton to LaVon Brazill.

Marshall (1-2) answered back with a 45-yard touchdown pass from Cato to Aaron Dobson, but the Bobcats scored the final 37 points of the game to run away.

The Thundering Herd committed turnovers on five of their final six possessions of the first half, and the Bobcats capitalized.
Matt Weller kicked a 20-yard field goal for a 10-7 Ohio lead, Tettleton scored on a 7-yard run and Weller kicked a 21-yard field goal for a 20-7 advantage.

Phil Bates broke free for a 50-yard touchdown reception, and after Marshall lost a fumble, Brazill scored for the second time on a 22-yard pass from Tettleton.

"I certainly did not expect that type of a game," Ohio coach Frank Solich said. "I know Marshall is a good football team, and I know they're a physical football team. We just got rolling early and forced some turnovers early and it just seemed to keep happening and pretty soon, we had all the momentum, and it just kind of snowballed, and the game turned out the way it did."

Weller tied Kevin Kerr's all-time field goal record with a 34-yarder in the third quarter, and the Bobcats tacked on another touchdown on a Ryan Boykin run from 1 yard out in the fourth quarter.

Tettleton finished the game 20 of 29 for 285 yards and three touchdowns and added 53 yards rushing and a score on the ground.
The bubble screen was a bread-and-butter play for Tettleton and the Bobcats.

"To be honest, I think we ran that play like 10-15 times all game," he said. "They kept showing the same defense, and it was an easy read for me – just choose one side or the other depending on the safeties and stuff. (The receivers) did a great job when they got the ball."

Donte Harden turned a screen pass into a 27-yard gain that led to Tettleton's rushing touchdown on a draw play. Harden had 42 yards rushing on eight carries, caught three passes for 45 yards and returned a kickoff 74 yards in the first half, but an injury prevented him from playing in the second half.

In his place, Ryan Boykin amassed 130 yards on 25 carries and 20 yards on two receptions.

Travis Carrie had two interceptions in the game, and Xavier Hughes picked off his second pass of the season. With his brother George Carpenter playing for the Thundering Herd, the Bobcats' Nathan Carpenter came up with two fumble recoveries.

"We were intent on creating some turnovers," Solich said. "(Cato) threw a couple passes he probably wished he could be able to take back early in the game. … I like the speed of our defense. Those guys move around and we're able to move on the ball pretty good. Probably it's a combination of things that got us four interceptions on the night."

Tron Martinez led Marshall with 72 yards on nine carries. Defensively, Omar Brown had 14 tackles.

When time expired at the end of the game, the Bobcats made a dash to the end zone to claim the bell.

"Noah (Keller) and Jordan (Thompson), they were trying to beat me to the bell, but I told them I was going to get it and be the first to ring it," Brazill said. "… The bell, it hasn't been here in so long. Since I've been here, I've never rung the bell. I was so excited to get to the bell first and ring it."

The Bobcats play their final non-conference game at 2 p.m. next Saturday at Rutgers.

Additional Coverage:


Box score (Ohio Bobcats.com)




Exclusive BobcatAttack.com Multimedia: