Boykin's fourth-quarter TDs give Bobcats 38-31 victory
Ohio overcomes Buffalo's powerful rushing attack
By Lonnie McMillan / Contributor
Saturday, October 06, 2012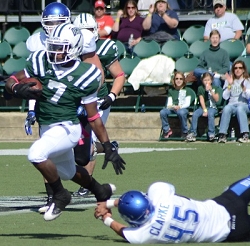 Lonnie McMillan Photo
Daz'mond Patterson's 102-yard kick return sparked Ohio after it fell behind 14-0.

ATHENS, Ohio – Ryan Boykin scored two touchdowns in the fourth quarter, helping Ohio hold off Buffalo, 38-31, to become the nation's first bowl-eligible team.

He scored on a 1-yard run on the first play of the fourth quarter to give Ohio a 31-24 lead and broke off a 51-yard run with 5:56 remaining to give the Bobcats breathing room down the stretch.

Ohio (6-0, 2-0 Mid-American Conference) again overcame a bad start, getting a spark on Daz'mond Patterson's 100-yard kick return after it fell behind 14-0 in the first quarter.

Buffalo (1-4, 0-2 MAC) racked up 313 rushing yards and outgained Ohio, 501-333, overall, but the Bobcats used three fumble recoveries to their advantage. Coming into the game, Ohio had given up only 94.0 yards per game.

"It's difficult," Ohio coach Frank Solich said. "That's what we like to do and that's what we want to do. They were able to do that better to us than we were to them. I'd like to trade them statistics in almost every area except turnovers margin."

The Bulls scored on a 10-play, 75-yard touchdown drive to open the game and then went on a 14-play, 93-yard drive on their second possession to build an early two-touchdown advantage. Devin Campbell, who finished with 30 carries for 160 yards while filling in for the injured Branden Oliver, scored first on a 3-yard run, while Alex Zordich connected with Devon Hughes on a 10-yard pass for the second score with 3:17 left in the first quarter.

With both the offense and defense struggling to that point, the Bobcats got a big lift from its special teams on the ensuing kickoff when Patterson went 102 yards down the left sideline to make it 14-7.

"It was great blocking actually," Patterson said. "From what I remember, the only guy I had to make miss was the kicker. I just followed my blocking and it hit perfectly."

That, combined with turnovers, helped the Bobcats follow with the next 14 points.

Ohio failed to convert on a fake field goal on fourth-and-3 from the Buffalo 12-yard line as holder Matt Waters pitched ahead to Tim Edmond, but only for a gain of 1 yard. However, only a few plays later, Thad Ingol forced an Alex Neutz fumble that Nathan Carpenter recovered at the 14-yard line. Beau Blankenship ran it up the middle for a score on the next play to tie the game at 14.

The Bobcats' third score of the first half came after they took possession at the Bulls 15-yard line when a short punt went off a Buffalo play and was recovered by Ohio. Again, it took only one play for the Bobcats to take advantage, with Tyler Tettleton finding Tyler Futrell for a score in the corner of the end zone.

Matt Weller kicked a 45-yard field goal on the opening possession of the second half, but Buffalo used a pair of trick plays to tie the game again.

Alex Dennison threw a 55-yard wide receiver reverse pass to Neutz and the Bulls later converted a fourth down with a run by punter Tyler Grassman that set up Patrick Clarke's 30-yard field goal with 3:55 to go in the third quarter.

Waters made a big catch, gaining 36 yards on second-and-30, setting up Boykin's 1-yard score that put the Bobcats up for good.

After Boykin's second touchdown run, Buffalo was held on downs but got the ball back once more and Dennison scored on a 1-yard touchdown run with eight seconds left. Kendrick Smith recovered the Bulls' onside kick attempt.

Boykin, who sat out the last two games with an injury, finished with six carries for 64 yards, while Blankenship's run of consecutive 100-yard games came to end at five. He had 25 carries for 86 yards.

Tettleton was 14 of 26 for 183 yards and threw his first interception of the season on Ohio's first possession of the game. For the second game in a row, his running opportunities were limited by an injury that caused him to miss a start two games ago.

With leading receiver Donte Foster out with an injury, Bakari Bussey led the Bobcats with a career game of eight catches for 77 yards.

"As a team, we're suffering with injuries a lot," Bussey said. "Coach said it before the game. We just have to find guys to step up. We had young guys step up and make plays. I had to help Donte out today. I had to step up."

Tight end Jordan Thompson can be added to the list of injury casualties the Bobcats have suffered. Solich said he likely will be out for the rest of the season after going down in the third quarter.

Zordich was just 13 of 25 passing for 97 yards, but he also rushed 19 times for 110 yards. Neutz had four receptions for 77 yards.

"My personality doesn't allow me to enjoy this kind of game as much. I'm a little bit of a perfectionist," Solich said. "… But we were able to play well enough to win. … I couldn't be more please in terms of winning this game and winning the games we've won, regardless of how we've won. It's a bottom-line business and winning is the bottom line."

Ohio faces Akron at 2 p.m. Saturday.