Ohio not seeking revenge, only a victory
Bulls upset Bobcats last season
By Lonnie McMillan / Contributor
Thursday, October 04, 2012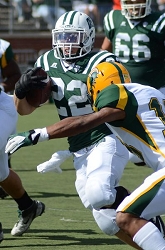 Lonnie McMillan Photo
Beau Blankenship is coming off a 269-yard rushing effort against UMass.

ATHENS, Ohio – The last time Ohio and Buffalo played, the Bulls stunned the Bobcats, 38-37, last season, but Ohio coach Frank Solich insists his team is not using that loss as motivation for Saturday's Mid-American Conference matchup.

"That's kind of come and gone," Solich said. "We've got goals and again we know what every team is going to be like that we face in the MAC. It's always a challenge. So we don't try to work on getting revenge from last year, or any type of revenge motive. We just look at trying to get football games won week after week."

But Solich said there are lessons to be learned from that game. Buffalo beat Ohio in nearly every phase of the game, he said, except for special teams.

"We lost the turnover battle," he said. "We lost the sack battle. We lost the big and explosive play battle. We lost the red zone battle. And we lost the third down conversion battle. That's losing a lot of battles. We want to do much better than that."

A big reason for the Bulls' success last October was running back Branden Oliver, who rushed for 179 yards and three touchdowns against the Bobcats. Oliver has 426 yards rushing in three games, but missed last week's 24-17 loss to Connecticut with a leg injury and is questionable for Saturday's game against Ohio.

The Bobcats (5-0, 1-0 MAC) have excelled against the run this year, giving up only 94.0 yards per game and 3.3 yards per carry.

One of Buffalo's biggest threats offensively is quarterback Alex Zordich, although so far he has been a bigger running threat than passing threat. He has carried for 198 yards and a 5.2 yards-per-attempt average but has completed just 48.5 percent of his passes for 697 yards with seven touchdowns and four interceptions.

Alex Nuetz has been by far the Bulls' top playmaker in the receiving game, accounting for nearly half of the team's receiving yards and catches with 21 grabs for 354 yards and six scores. No other player on the team has more than six receptions or 84 yards.

Ohio has given up 266.2 passing yards per game and allowed Massachusetts quarterback Mike Wegzyn to throw for 373 yards and four touchdowns even though the freshman came in completing less than 50 percent of his passes with no touchdowns.

"It was disappointing in terms of how we handled the passing game last week," Solich said. "That's going to have to improve. Every team in the MAC, I think every team has an identity. And (Buffalo's) is toughness. They like to run the ball from the offensive standpoint. But UMass was somewhat the same way, and we let their passing attack come alive and we can't afford to continue to do that."

Given the Minutemen's surprise success passing the ball, the Bulls might try to test a beat-up Bobcats secondary. The team has played without cornerbacks Travis Carrie and Jamil Shaw, who are out for the season, and in addition safeties Gerald Moore, Thad Ingol and Xavier Hughes all are questionable for Saturday. Ingol originally was called doubtful, but so as of Wednesday, was the only of the three to have returned to practice.

Last year, the Bobcats played without five defensive starters against the Bulls and they will be short-handed again. Defensive end Tremayne Scott is out, while defensive tackle Carl Jones and linebacker Keith Moore are questionable.

Of course, one of the biggest injury concerns the last two weeks has been quarterback Tyler Tettleton, but he played effectively against UMass, though it was apparent he was trying to avoid contact.

"We think we got him through the last game without re-aggravating the injury," Solich said. "That was huge for us. We were ready to take him out at the first sign of it bothering him. So, right now, I believe he's over it. I know he had a little soreness (Sunday). But that was to be expected, not meaning that he re-injured himself, and so I think – if we're smart on how we handle him – he has a shot of going into this next game at 100 percent and can operate everything within our offense."

In four games, Tettleton has completed 64.3 percent of his passes for 1,010 yards and nine touchdowns with no interceptions.

With backup running back Ryan Boykin also sitting out against the Minutemen, that left Beau Blankenship to carry basically the entire load in the running game. He came through with 43 carries for 269 yards. He now is second in the nation in rushing yards with 757 rushing yards this season.

Solich said Blankenship's role should be reduced this week with Tettleton and Boykin expected to be able to share carries.

Donte Foster is the Bobcats' top receiving threat with 22 catches for 243 yards and four touchdowns. Receivers Landon Smith and Tyler Futrell both missed the last two games, but both could be back this week.

Buffalo has a defense that ranks in the middle of the league, allowing 31.5 points and 403.8 yards per game.

The Bulls are led defensively by Khalil Mack, who has 24 tackles, including 11 of them for loss, despite missing one game. He has 4.5 sacks.

"They use him a little differently this year," Solich said. "Last year, they were operating more out of a 4-3 front with him as a rush end. Now he's an outside backer. At times he's up on the line of scrimmage where he can rush. They're utilizing him in a lot of ways this year."

Buffalo leads the MAC in both tackles for loss (30) and sacks (17). However, the Bulls have struggled to force turnovers, with only interception and no fumble recoveries this year. By comparison, Ohio has five interceptions and eight fumble recoveries.

The game is set to begin at 12 p.m. at Peden Stadium and can be seen on ESPN3 and on ESPN-Plus affiliates.