Keller hopes to hear name called during draft
Middle linebacker ranks among school's all-time leading tacklers
By Lonnie McMillan / Contributor
Tuesday, April 24, 2012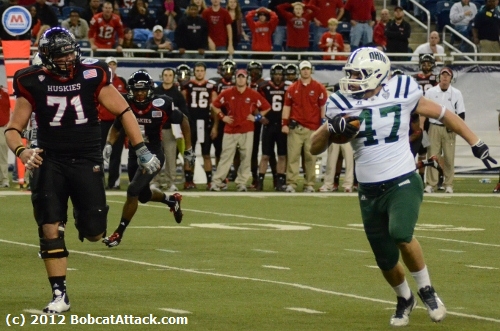 Lonnie McMillan Photo
Ohio's Noah Keller returns an interception against Northern Illinois in the Mid-American Conference Championship Game this past season. Keller hopes to be selected in the NFL Draft this week.

Former Ohio linebacker Noah Keller is hoping to hear his name called during the NFL Draft this week, but if he does not, he knows he has options.

Even if he is not selected, the three-time All-Mid-American Conference pick is certain to sign an undrafted free agent contract and get a shot at the NFL.

"I'm hoping that I get my name called," Keller said. "My agent has talked to about 15, 20 teams in the league that have contacted him. Some teams are pretty interested and there's other ones not so much. You don't need all the teams to like you; you just need one team to like you. That's what I'm hoping for. I hope I find one team that the coaching staff likes me and they've got a system that I can play in."

Keller, at 6-1 and 245 pounds with good speed, has the physical attributes NFL teams look for in a middle linebacker. That has translated into workouts that have generated interest, said Keller, who recently returned from one with the New England Patriots.

"I think teams knew I was a smart, heady, instinctive player, but I think the one thing I showed in all my workouts is I've got good explosiveness and good speed and overall athleticism," Keller said.

That combination of characteristics helped the Kearney, Neb., native to have one of the most prolific defensive careers in Ohio football history. He was a three-time All-MAC selection who totaled 438 tackles in 55 games to rank sixth all-time among Bobcats.

He got his first opportunity for Ohio as a true freshman, making 37 tackles in 12 games. The next year he made 104 tackles and had his biggest statistical season as a junior in 2009, making 155 stops, including nine for loss. He was named an honorable mention All-American by SI.com.

Keller played in just three games in 2010 before a toe injury ended his season, and after being granted a medical redshirt, he returned for the 2011 season. He made 116 tackles while helping the Bobcats tie their school record for wins in a season with 10 and earn the university's first-ever postseason victory, a dramatic come-from-behind 24-23 win against Utah State in the Famous Idaho Potato Bowl, in which Keller had 11 tackles.

"I was able to finish my degree," Keller said. "I was able to play with a great team. I loved this whole season. Now I'm able to add a little more on the resume and to say we won the first bowl game in school history is something I'll always remember and I'm glad it worked out that way."

Keller earned his degree in biology, and if the NFL does not work out for him, he plans to continue his education in medical school, rather than playing professionally at a lower level, which he undoubtedly could do.

But for now, Keller's focus is on the draft, which he said he plans to watch with friends and family.

"It'd be a dream come true to be drafted," Keller said. "It's something I wanted to ever since I was little. It would be a very surreal feeling. … If not, I'll at least get a free agency deal and then I've just got to work from there. If you get drafted in the later rounds, you're not guaranteed a spot. You still have to make the 53-man roster, so all those spots are the same."

Any team willing to take to give Keller a tryout will find the inside linebacker is able to serve as a backup outside linebacker and perform as a capable special teams player, he said.

He is not alone among 2011 Bobcats trying to make it in the NFL. Wide receiver LaVon Brazill likely will be picked at some point, while former teammates offensive linemen Joe Flading and A.J. Strum and wide receiver Riley Dunlop are expected to have good chances of at least signing free agent contracts. Punter Paul Hershey, running back Donte Harden and wide receiver Phillip Bates also are considered prospects.

Keller said his time with the Bobcats played a part in putting him in position to have a chance at his dream of playing professional football.

"I really enjoyed playing at Ohio University," he said. "I played for a great coaching staff and won a lot of football games and grew as a player. It was definitely valuable."

The first round of the draft is set for 8 p.m. Thursday with the second and third rounds slated for 7 p.m. Friday. The draft concludes at 12 p.m. Saturday with the final four rounds at Radio City Music Hall in New York City.