Bobcats open season with blowout win
Ohio outscores Portland by 29 in 2nd half
By Lonnie McMillan / Contributor
Saturday, November 10, 2012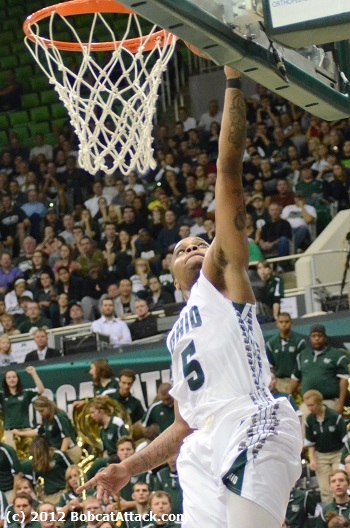 Lonnie McMillan Photo
D.J. Cooper scored 18 points in Ohio's 81-52 victory against Portland.

ATHENS, Ohio – Ohio scored 21 of the first 25 points in the second half and cruised after a slow start in its season opener, defeating Portland, 81-52, as the Bobcats celebrated last season's Sweet 16 appearance on Saturday at The Convo.

The Bobcats trailed 33-28 late in the first half, but scored the final five points before the break and kept the momentum in the second half, totaling a 26-4 run. Ohio outscored Portland, 48-19, in the second half.

"In the second half, these guys imposed their will and that's what I'm proud of," first-year Ohio coach Jim Christian said.

D.J. Cooper and Nick Kellogg scored 18 points apiece to lead four Bobcats in double figures. Reggie Keely added 13 points and Ivo Baltic had 10 points.

Ryan Nicholas was the only Pilot to score in double digits with 16.

Ohio forced 23 turnovers and came away with 35 points off of them. It also held a 16-3 advantage in fast break points.

Baltic's fast break dunk opened scoring in the second half and Walter Offutt added a fast break layup, and from there, it was all Bobcats.

Thomas Van der Mars had a layup at the 18:30 mark that made it 37-35, but Ohio scored seven points in a row, with two Offutt free throws making it 45-35.

After Derrick Rodgers hit two foul shots, the Bobcats scored another nine straight points, capped by a Kellogg 3-pointer that made it 54-37 with 13:44 remaining.

The Pilots were within 14 with an Oskars Reinfelds free throw with 7:57 left to play that made it 60-46, but the Bobcats came back with another big run. This time they outscored their opponent, 10-2, to push the lead to 70-48 on a Baltic fast break dunk with 4:54 to go.

"We were just making the right plays, doing what we can do," Kellogg said. "All the guys did a good job of playing their roles in the second half, slowing down and doing what we can do."

After shooting 40.6 percent in the first half, Ohio connected on 61.5 percent of its shots in the second half to finish at 50 percent in the game. The Bobcats were 8 of 17 from 3-point range, including a 4-of-4 performance by Kellogg. Cooper hit 3 of 5.

Portland held a 16-8 lead at the 14:07 mark, but Ohio made its first big run of the afternoon. Kellogg ignited a string of 11 straight points that put the Bobcats up, 19-16, at the midway point of the second half.

"It's only normal in the first game of the season in front of your home fans, predicted to be a sellout, to get caught up in the emotion and forget about the fundamentals and X's and O's, but we did a good job of settling down," Kellogg said.

But the Pilots re-established themselves and led by as much as 30-26 with 2:13 remaining on a Nicholas 3-pointer. It was 33-28 when Cooper drained a trey and added a transition layup before the half to tie it at 33.

"Coach told us to make our run right here and we turned it up on defense and made a couple big plays toward the end," Cooper said.

With a near-capacity crowd on Dads' Weekend there to celebrate last season's success, Ohio had a huge home-court advantage. Christian, who previously coached at Kent State and most recently TCU, said it was the largest home crowd in front of which he has coached.

"I never even coached in a building that was this big," Christian said.

"When they play that song before and everyone was jumping, I was kind of getting jumpy myself," he added. "… I could have snuck into the Ozone and bounced around a little bit. The band is in midseason form. The Ozone is in midseason form. We just have to catch up and we will."

Portland finished the game shooting 34.7 percent, including just 25.9 percent in the second half.

Jon Smith scored only two points for Ohio, but had eight rebounds and four blocks in 21 minutes. Cooper finished with six assists, five rebounds and three steals.

Nicholas led all players with 11 boards.

"It was a high-major basketball game from an environment standpoint," Christian said. "I think we got caught up in it from the start, but we took control of the pace of the game. We'll learn from this but the only thing you want to do after one game is be 1-0."

The Bobcats host UNC-Wilmington at 7 p.m. Friday in The Convo.