Christian hired to lead Ohio men's basketball
Former Kent State coach returns for 2nd stint in the MAC
By Lonnie McMillan / Contributor
Tuesday, April 03, 2012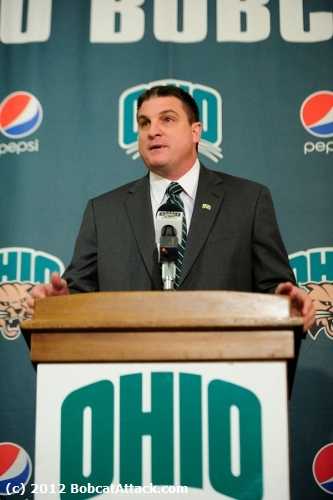 Joel Hawskley/Ohio Unviersity Athletic Department Photo

ATHENS, Ohio – Jim Christian is back in the MAC.

The former Kent State coach, who most recently coached at TCU, was announced Tuesday as the 17th coach of the Ohio men's basketball team.

He replaces John Groce, who resigned after leading the Bobcats to the Sweet 16 in his fourth season to take the head coaching job at Illinois.

"With John Groce, this team, their staff, had a special, special season and put the program on the map," Christian said. "The only promise I can make is that I'm going to work tirelessly to keep this program on that same path."

Christian spent six seasons at Kent State from 2002-08, compiling a record of 138-58 for the best coaching winning percentage in Mid-American Conference history. He twice led the Golden Flashes to the NCAA tournament and three times to the NIT, winning 20 games or more every season.

He moved on to TCU and undertook a major rebuilding project, helping the Horned Frogs to their best season since 2005 with an 18-15 mark this past year.

"This is truly an exciting day for Ohio University and Bobcat athletics," Ohio athletic director Jim Schaus said. "Jim Christian is the winningest men's basketball head coach in Mid-American Conference history and we are thrilled to have him lead our program. I am confident that his passion, energy and leadership will help our program to the next level."

TCU was just 56-73 in Christian's four years, but he inherited a program in shambles. The Horned Frogs are set to move from the Mountain West to the Big XII this upcoming season.

"Rebuilding and maintaining both have unbelievable challenges," Christian said. "The one thing I took for granted was the culture I had at Kent State would be transferred automatically to TCU."

The winning culture created at Ohio and the commitment of Schaus and President Roderick McDavis were among the biggest draws to the job, Christian said. As soon as he heard Groce was moving on, Christian said he thought he might like a chance to lead the Bobcats.

"In the back of my mind I was thinking, 'I hope they call me, because I'd love to talk to them,'" he said. "… It was instantaneous for me. To hear the pride in his voice in what they did and Dr. McDavis with their vision, it was clear cut that if there was any way I could take over a situation like this, it would be ideal for me."

Christian is a native of Bethpage, N.Y., who was recruited to play at Boston University by Rick Pitino. He transferred after two seasons to Rhode Island, helping the Rams to within a point of the Elite Eight in 1988.

He and his wife Patty, an Ohio University alumna, were married in 2005 while he was at Kent State. They have three children.

Christian steps into a similar situation to what he did at Kent State, taking over for Stan Heath, who had led the Golden Flashes to the Elite Eight. He admitted a coaching transition can be difficult on players, noting it took Kent State some adjusting to get used to Heath before running off a 21-game winning streak.

He said he met this morning with the Ohio players, all of whom return for next season, and tried to reassure them, saying the focus was going to remain on the same things that led to their success this year. Christian said he also comes "from the same cloth as John Groce," with both having worked under Thad Matta and Herb Sendek.

"I think the style is very similar to what they see now," Christian said. "… I'm not coming in here to try to reinvent the wheel. You have a very good formula."

One of his top goals is to win the MAC regular season championship, something that has eluded the Bobcats since 1994. From there, postseason success should fall into place, he said.

Christian said he and Groce would have to work together for the good of both programs in terms of hiring assistant coaches at Ohio and Illinois, and like Groce, Christian has assistants from TCU he said he would like to bring on board at Ohio.

McDavis also spoke briefly, saying he believes this is a step toward continued excellence at the university.

"The vision of any great university is excellence in every area of the university," he said. "… That begins with our focus in academics. … But in these last years, we've also realized we can be a great university in athletics."

Christian said he plans to meet with each player individually throughout the week and plans to remain in Athens through Sunday before returning to Texas to get things in order to move permanently.

The new coach will be welcomed at a free social at 6 p.m. Friday at the Walter Hall Rotunda.